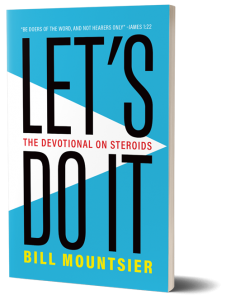 CINCINNATI, January 19, 2022 – So how about those New Year's Resolutions? It's just about late enough in the year for those resolutions to have lost their luster, but if one of your commitments was to get serious about daily devotions, or to do more for other people as an expression of your faith, author Bill Mountsier might have just what you need to get started or keep going.
Mountsier's just-released book, Let's Do It: The Devotional on Steroids, puts legs on the good intentions of Christians by combining thoughtful devotions with an action plan and plenty of encouragement.
The 30-day devotional provides an easy-to-digest devotional thought to go with the scripture of the day, and suggests a song for worship, encouragement, or inspiration. But it's his weekly challenges of doing things for other people that sets the book apart.
"I've written this book/devotional to help people put their faith into action," Mountsier explains.
"This devotional doesn't just give you Scripture and commentary; it challenges you with some random acts of devotion and kindness. "
With seminary training and decades of full-time ministry experience, Mountsier understands the Scriptures, but he also understands human nature that finds reading or studying more comfortable than getting out and doing something.
"Many of us may have a 'quiet time,' or a 'devotional time,' which is really important, but we don't transfer that to any tangible actions each day or week," Mountsier said.
He's enthusiastic about the structure of the book that makes it easy to keep up with the devos and encourages simple activities such as baking cookies for someone, or writing a thank you note to bless the lives of those around us, and of course blessing ourselves in doing the action.
Among the scriptures he quotes is James 2:26, faith without works is dead.
Let's Do It: The Devotional on Steroids is the first in a series of Let's Do It action devotion books for adults and children. After more than 35 years serving in church ministries, Mountsier has turned his attention to writing and speaking to help encourage Christians in their faith journey. Mountsier and his wife live in the Cincinnati area.
For more information about Bill and his ministry, and to connect with him for speaking engagements, visit https://devotionalonsteroids.com/
Let's Do It: The Devotional on Steroids [ISBN: 978-1952025877] just released from Carpenter's Son Publishing. It is available from selected bookstores and online retailers.
# # #
For a review copy or to interview Bill Mountsier, contact Joni Sullivan Baker, Buoyancy PR,
at 513/319-3231 or jbaker@buoyancypr.com.