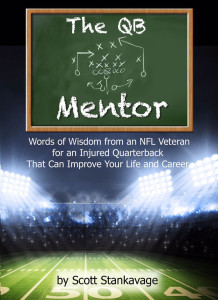 Foreword by Pep Hamilton, Cleveland Browns' new assistant head coach/offense
and quarterback coach
DURHAM, N.C. – Jan. 21, 2016 – Football in January: the best of the best clash to declare the top teams. Alabama has claimed another national college championship, and NFL teams continue their climb leading to the nation's 50th Super Bowl. From coast to coast, millions soak in the action, incredible athleticism and breathtaking plays.
But behind these amazing performances, fans know the preparation leading to these top honors has been decades in the making for each player, not only physically but also mentally and emotionally.
And many times, that preparation requires players to overcome tremendous odds.
"Sometimes, the measure of a man is not what he accomplishes, but what he overcomes," said author Scott Stankavage, former quarterback for the Denver Broncos and University of North Carolina.
Scott Stankavage lives and writes about that truth. He is the father of a current SEC college quarterback, Shawn Stankavage, who faced great heartbreak and fear when he tore his ACL in his junior year of high school, potentially ending his college playing options.
Scott understood he needed to view this crushing setback in the light of God's plan for his son's life – and his own.
In his new book, The QB Mentor, Scott tells the story of enlisting a Hall of Fame and two-time national college coach of the year, Steve Wilson, to mentor his son following the injury.
Scott and Coach Wilson were teammates on the Broncos during Wilson's 10 year-NFL career that included starting in two Super Bowls. Wilson then went on to even more success as an outstanding college coach, most notably at Howard University, in Washington, D.C.
The wisdom from Coach Wilson, told through tales of other quarterbacks' challenges, his minister grandfather's spiritual lessons, and sometimes tough personal experience, opened the eyes of both Scott and his son.
"Son, in order to help you, I have to access your mind. But first, I have to touch your heart. I can't help you as a quarterback unless I help you as a man," Wilson says.
Over the next year, the Stankavage men met often with Coach for an intense quarterback mentoring class that changed all of them. The class covered far more than the science of football as together the trio faced new challenges, realizing that Shawn needed rehab as much for his broken heart as for his injured knee.
Then when things began to go in the right direction, a whole new challenge arrived in the form of a Scott's diagnosis of an aggressive and incurable form of leukemia, a disease he still battles.
The QB Mentor was described as "Madden meets Tuesdays with Morrie" by Anthony Dilweg, a former quarterback for the Green Bay Packers and Duke University.
With stories of legends Bill Walsh, Roger Staubach and John Elway woven into the narrative as Shawn's journey unfolds, football fans will also love the intro section from former NFL coach Dan Reeves (Denver Broncos, New York Giants, Atlanta Falcons), and the foreword from Pep Hamilton, newly-named assistant head coach/offense and quarterback coach for the Cleveland Browns, former quarterback coach for Stanford University and the Indianapolis Colts.
But the book is at heart the story of overcoming life's challenges, and trusting God through it all.
In the dedication, Scott notes the book is for "all of us" who accomplished their dreams and goals "through perseverance, hard work and faith…even in the face of significant challenge."
"It's for the dreamers who are filled with passion, faith, hope, and love, who, despite a myriad of twists and turns, continue to get up every day and do their best," he continues.
Scott Stankavage retired from the NFL after three seasons with the Denver Broncos that followed his notable career as a record-setting quarterback for the University of North Carolina and, prior to that, as an All-American high school player in Pennsylvania. Post-football, he enjoyed a 30-year career in commercial real estate in the Raleigh-Durham, N.C. area where he resides. He remains active in the community, where he founded the Turning Point Adolescent Center, serves on the board of the local Pop Warner youth football organization, and is engaged in several men's ministries.
He has been nominated as a candidate for Man of the Year by the Raleigh-Durham chapter of the Leukemia and Lymphoma Society.
The married father of seven, he continues to "quarterback" for the lives of many.
The QB Mentor: Words of Wisdom from an NFL Veteran for an Injured Quarterback that Can Improve Your Life and Career [ISBN: 978-1-942557-10-4] released January 2016 from Clovercroft Publishing and is available in select book stores as well as online sites including Amazon, and on the website, www.qbmentorbook.com
The book website also includes an author interview featuring both Scott Stankavage and Coach Wilson. For more about the book, check out the trailer here: https://www.youtube.com/watch?v=Mc_d9Uhi0LY.
For more information, review copies or interviews, contact Joni Sullivan Baker, Buoyancy PR, at jbaker@buoyancypr.com or 513/319-3231.
# # #