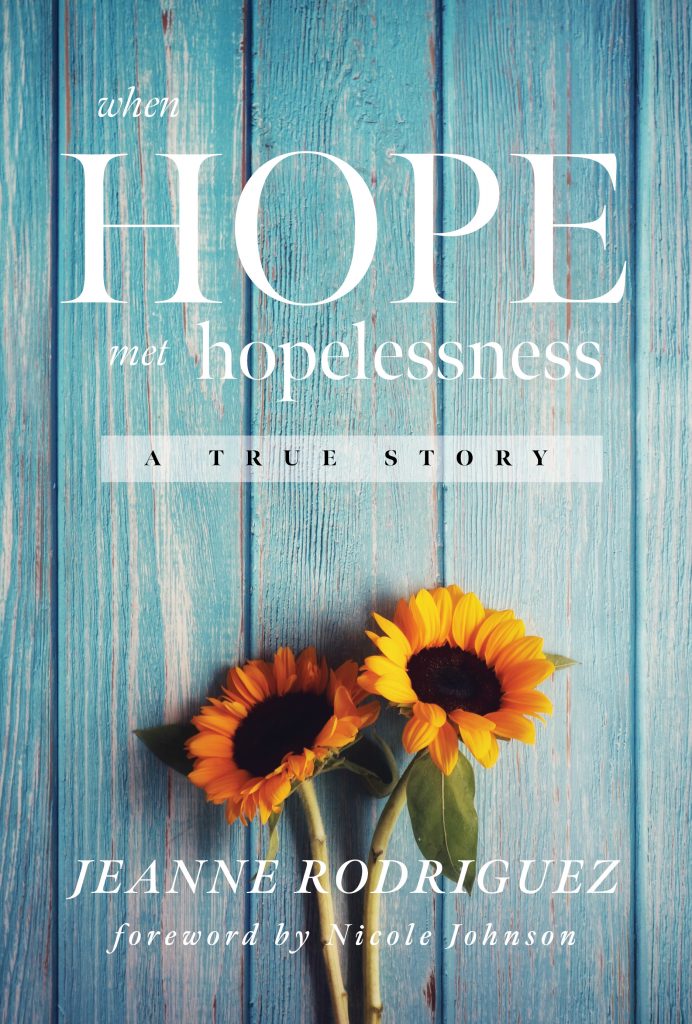 When Hope Met Hopelessness
By Jeanne Rodriguez
SACRAMENTO, CALIFORNIA – In 2002 the State Department began tracking the number of US citizens who die abroad from unnatural causes, finding car accidents, homicides, and drowning to be the top causes. Fortunately the risks are relatively low—in 2018 only 724 Americans fell victim.*
Despite such low odds, tragedy does, indeed, happen, and it strikes newlyweds Victor and Crystal Rodriguez on their honeymoon in the Bahamas. Just twelve days after their wedding, Victor's mom, Jeanne Rodriguez, receives a horrific phone call . . . Crystal is dead, and Victor lies in a hospital with life-threatening injuries.
"Crystal was like a daughter that I never had or never even knew I needed," Rodriguez says. "Watching my son suffer emotionally and physically, while I myself grieved Crystal's death, was excruciatingly painful, and I wondered if I would ever be happy again. But those dark, hopeless moments provide the opportunity for discovering divine hope in Jesus."
Rodriguez shares her story of tragedy and loss and her journey to ultimately discovering a new closeness with the Lord in her new book When Hope Met Hopelessness. With refreshing candor, Rodriguez acknowledges her inability to understand God's plan while also chronicling her transformation from broken to whole—from sorrow to joy.
"I discovered that it's all right to be angry at God and even to yell at Him, but I also learned that the Lord hears our cries, understands our pain, and loves us deeply," Rodriguez says. "I wrote my book to encourage others through their grief—talk to God, cry out to Him—and also to share a beautiful story of healing."
Embraced by family, friends, her community, and her church throughout her despair, Rodriguez's story also illustrates the power of rallying around loves ones in their time of greatest need.
s://qz.com/1641184/americans-shouldnt-fear-traveling-abroad/
ABOUT THE AUTHOR
Jeanne Rodriguez has served for over twenty-five-years in women's ministry, including speaking at women's events and serving as the former women's director at Bayside Church in Lincoln, California. With a Master of Arts in pastoral care to women from Western Seminary, Jeanne has a passion for helping women know Jesus and experience His love. She is currently the CEO for the Crystal Rodriguez Memorial Scholarship Fund, founded by her son after the death of his wife. She and her husband, Rubén, live in Citrus Heights, California. They are grateful for the blessings of their two sons, Kevin and Victor; daughters-in-law, Katie and Bailey; and grandson, Quinn.

For review copies and media interviews, contact:
Jeanne Rodriguez
Email: jeanfrodriguez@comcast.net
Instagram: @Jeanner7212
Facebook: Jeanne Fitzpatrick Rodriguez
Website: Jeannerodriguez.com
Suggested Interview Questions:
You say that Crystal was like the daughter you never had. Tell us a little about Crystal—some of your memories of her, how she was like your daughter, and what you miss most about her.
Why did you decide to write this book, and what was the process like as you had to relive those dark times following Crystal's death and Victor's injury, but also the ways you experienced hope as you wrote your memoir?
You are honest in your book about not understanding God's plan in tragedy but pointing out that even if he did allow us to understand, it would not remove the hurt and pain. What would you say to those who are questioning God about why He allows bad things to happen, and perhaps to those who are mad at God for not preventing tragedy in their lives?
In your book, you write of a verse in Romans that tells us that hope does not disappoint. Was there a turning point for you where your hopelessness turned to hope, and you didn't view your loss as disappointment with God?
You write that your love for the Lord has increased and that you have gained a remarkable closeness with God. How can you explain such transformation?
In addition to your own grief, you had the pain of watching your son grieve while also trying to recuperate from his life-threatening injuries. How is Victor today, and what does he think about When Hope Met Hopelessness?
Your family seemed to have a lot of love and support from the community. Tell us a little about what you experienced and what role others played in your healing. What advice would you give to someone who is trying to walk alongside a friend or family member who is grieving?