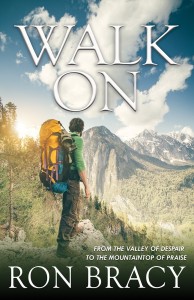 SAN ANTONIO, TX – June 18, 2018 – He's a proven tough guy.  Adopted at the age of five, he grew up without a lot of advantages. But he won acceptance into the elite U.S. Air Force Academy, and then spent his military career in the Air Force, flying nearly 200 combat missions, more than half of them over North Vietnam. Later, he was on duty at the Pentagon on 9/11 and was a witness of that terrible day. A man of faith, he later did graduate work in biblical studies, culminating in a Ph.D.
But despite all he had seen and endured, Ron Bracy's most severe test of life and faith came the day his only son was killed on an Air Force Special Operations mission.
Bracy reflects back on his own grief and that of others in his book, Walk On: From the Valley of Despair to the Mountaintop of Praise.
The book is an examination of the small Old Testament book called Habakkuk.
Bracy shares what he learned from Habakkuk about life's toughest times, explaining how the Old Testament book records the personal traumatic experiences the prophet encountered with evil, injustice, grief and despair.
"From the prophet's experience with God, we can glean certain truths that will empower us to deal with evil and grief along the journey of life. These truths will provide an anchor and enable us to stand firm during the storms of life."
"The truths are not easy, and God does not promise us an easy journey. Though our life may be filled with confusion and doubts, God is sovereign, He is in control, and He will never leave us. That is all that we need to know," Bracy writes.
Bracy wrote an earlier version of the book before losing his son, then says, "How little did I know of God and His workings!" He recounts receiving the news that changed his life and that of his family forever.  "I came face to face with God in a way I had never envisioned. I was to learn much about sorrow, hope and God."
The lessons didn't come quickly or easily.
He shares that although he continued to move through life and support his widowed daughter in law and young granddaughters in the months following his son's death, he felt God was silent for far too long. "Time stopped for me for four long years."
"Like Habakkuk I have questioned –yes, even challenged—God about His silence and apparent inactivity during the struggles and pains of life. Many times He was silent, and even when He spoke, I could not understand Him. Like the prophet, I learned in time that God is real, active, and at work in my life and in the world. Most of all, I came to understand and acknowledge the truth that God is sovereign, having control over all aspects of life. Only after I accepted His sovereignty did I find and experience 'the peace that surpasses all understanding.'"
"Regardless of the circumstances and adversities of life, I could walk on and know life had a purpose. All of us eventually must come to this point, if our life is to have true meaning and value."
The title "Walk On" is drawn from the last verse of Habakkuk which states, "The Lord God is my strength, and He has made my feet like hinds' feet, and makes me walk on my high places." (Habakkuk 3:19).
But the words "Walk On" also have additional personal significance for Bracy, who sought out the music his son loved as a way to draw closer to his memory. He found some comfort when he discovered the lyrics of the song "Walk On" by U2. The lyrics of that song also speak of loss:
I know it aches
How your heart it breaks
And you can only take so much
Walk on, walk on
Today, Bracy has discovered a new calling and a new ministry as a Bible teacher at a Classical Christian school near San Antonio, Texas where he and his wife live. His daughter and her family, as well as his daughter-in-law and her family, also live nearby.
After his 42-year career in the Air Force, Air Force Reserves and National Guard, Bracy earned master's and Ph.D. degrees in biblical studies and ethics from Southwestern Baptist Theological Seminary in Ft. Worth, Texas. He spent more than 20 years in pastoral ministry and teaching, and now also serves as a Guest Speaker.
He continues his commitment to the military in a project he and some other veterans have undertaken to seek to recover the remains of some of their friends lost in the Vietnam War.
Bracy's message is to everyone, as all people experience hurt and loss.
"I do not know where you are in your journey of life," he writes.  'Perhaps you have never walked with God in your life; you have doubted His reality. Perhaps you have experienced some great tragedy, and you cannot understand why a loving God would allow such pain. Perhaps you have looked at a world filled with evil and injustice and asked, 'Why, God?'"
"I encourage you to continue to walk on. As He did in my life, God will meet you in His time and show you how He wants to walk with you on your journey of life.
"Along the way, always remember, 'God is sovereign! He is in control, and He will always be with you!' Walk on!"
Walk On: From the Valley of Despair to the Mountaintop of Praise [ISBN: 978-1-942587-91-0, Carpenter's Son Publishing, $14.99] is available from selected book stores and online retailers.
For more information about Ron and his writing and speaking ministry, visit www.walkonbook.com
For a review copy or to interview Ron Bracy, contact Joni Sullivan Baker, Buoyancy PR, at 513/319-3231 or jbaker@buoyancypr.com.
# # #
EDITORS NOTE:  Ron Bracy will be in the Washington, D. C. area the week of June 18 and is available for interviews.
Among his activities, he will be honored to serve as Guest Chaplain for the U.S. House of Representatives and offer the opening prayer for their afternoon session on Tuesday, June 19.  He also will be the Guest Speaker at the Congressional Worship Service on Wednesday night, June 20.  In addition, he will participate in the
National POW/MIA Family League Conference in Washington, D.C., on Friday, June 22.