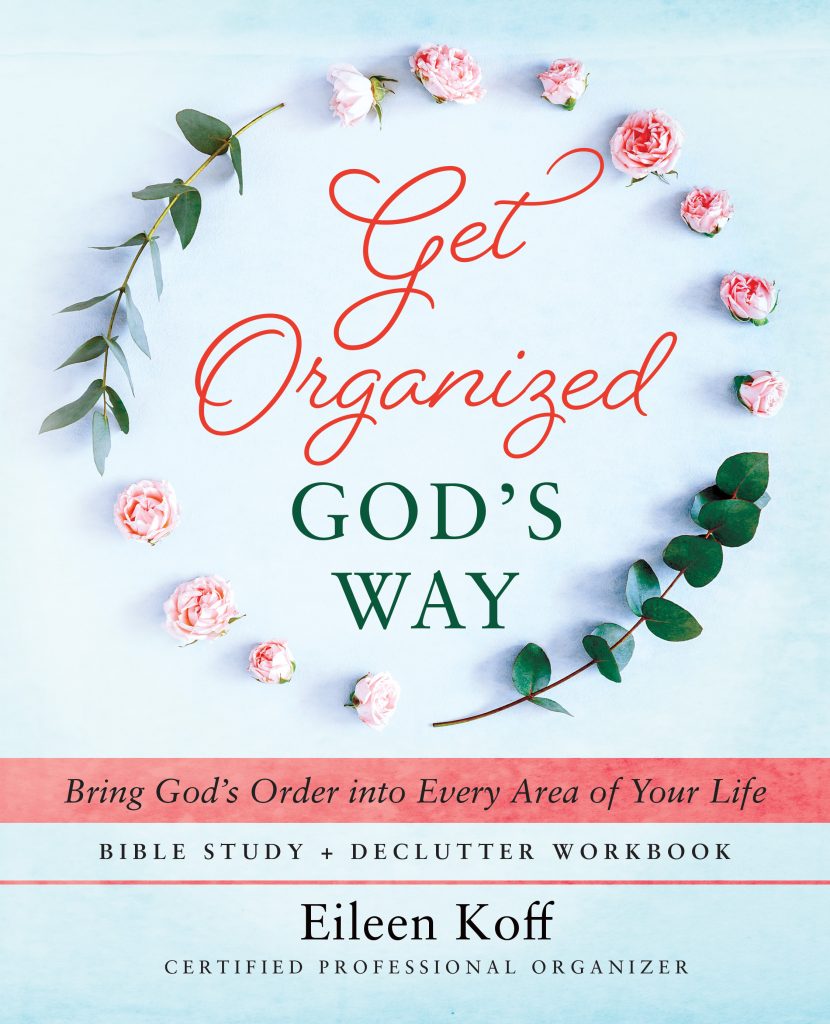 Get Organized God's Way
Bring God's Order Into Every Area of Your Life: Bible Study and Declutter Workbook

By Eileen Koff
CARY, NORTH CAROLINA – September 7, 2023 — In a study conducted by NAPO (the National Association of Productivity and Organizing Professionals), 80 percent of the items the average person holds on to are never used.* Even with the abundance of how-to books and advice on organizing, many still struggle to deal with clutter.
Eileen Koff, a Certified Professional Organizer, says there is a spiritual component involved. In a new release, Get Organized God's Way (Redemption Press), she says, "A disorganized life can put God at a distance because of all the distractions that disorder creates, and the temptation to love and treasure those things rather than God." Get Organized God's Way teaches how to break free from false beliefs that keep you in bondage to your possessions, and make peaceful places where we can nurture intimacy with God.
In Get Organized God's Way, the award-winning organizing professional unveils the lies and misconceptions about disorganization that keep many in darkness and disarray. She sheds light on God's plan to bring His order into our chaos so we can experience His purpose for our lives, as well as prioritize our gifts and talents to serve others.
"Anyone who has ever tried to get organized knows it can be tough," Koff says. "Unlike other books filled with hints, tips, and methods that work for everyone else but you, this study will reveal God's plan for living an orderly life. Once you understand how to get organized God's way,He will light your path to a new freedom from your present chaos."
Passionate about teaching the joys of leading an orderly life, Eileen Koff says her greatest delight is witnessing the transforming power of God's Word in those she serves. In Get Organized God's Way, she reveals a plan to not only transform your spaces but be transformed by the Word of God.
* https://www.thesimplicityhabit.com/statistics-on-clutter-that-will-blow-your-mind/
ABOUT THE AUTHOR
Eileen Koff is a Certified Professional Organizer (CPO®), former member and publication chair of NAPO (National Association of Professional Organizers), and founder of her professional organizing company, To The Next Level, and ministry, Eileen Koff Ministries. Eileen holds a Level II Specialist Certificate with the Institute of Challenging Disorganization, and her long-standing emphasis on eco-friendly solutions for her clients led her to receive the Best Green Service award by NAPO-LA in 2013. Eileen proudly served as devotion director and educational director for Faithful Organizers, an online international Christian community of over two hundred professional organizers (2007–2015).
She's passionate about teaching various groups the joys of leading an orderly life, but her greatest delight is witnessing the transforming power of God's Word in the lives of those she serves. She lives in North Carolina with her husband Wayne, of over forty years, and they are the proud parents of three adult sons.
Suggested Interview Questions:
As an organizing professional, what is your biggest personal organizing challenge?
Have you found that approaching decluttering from a spiritual perspective can open the door to sharing the gospel?
When it comes to getting organized, which do you find to be a more prevalent issue: fear of change or fear of commitment?
What is your first piece of advice to a client whose home environment does not reflect the person they want to be?
Many people can get organized, but have a hard time staying that way. Does your system offer a method for maintenance?
In your opinion, do home décor and organizing shows and magazines help and inspire, or do they contribute to unrealistic expectations that prevent people from even trying?
How does the Christian ideal of living for God rather than for the world help people to overcome their obsession with perfection?
How does managing our stuff relate to managing our time?
Have you ever had a client whose situation was beyond your help?
What is the link between house cleansing and getting organized?
How do certain objects in our home keep us from fulfilling God's order for our home?