Physician responds to God's call to serve in Haiti, his life changed
as he changes lives in one of the world's neediest nations
By James Ingvoldstad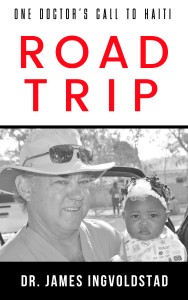 ATLANTA – Summer 2020 – "Road Trip!" It's evocative, and often draws a smile, with the implied concept of adventure, fun, and a bit of the unknown. But in these days of caution during the Covid-19 crisis, a road trip might be impossible to imagine.
In pre-Covid days, however, for one American physician, accepting a road trip invitation changed the trajectory of his life, as it began a personal journey that included adventure and risk, even heroism, along with Christian service to the people of Haiti, the poorest nation in the western hemisphere.
In his book, Road Trip: One Doctor's Call to Haiti, debut author Dr. James Ingvoldstad captures his reflections—and his adventures.
"I went to Haiti thinking I was going there to help the underprivileged, driven by an altruistic need to serve others," Ingvoldstad writes. "In reality, many times that was flipped. Unexpectedly, they helped, taught, and influenced me. Simply put, going to Haiti changed my life."
He accepted the invitation to serve on a medical mission the first time it was   extended, never dreaming in 2001 that "road trip" would begin nearly 20 years of life-changing service.
His commitment to the ministry continues, though he's had to postpone trips planned in 2020. Haiti has closed its borders to minimize exposure to the disease.
But for the 18 years prior to this one, Ingvoldstad logged travel to Haiti more than 30 times. During those trips, in addition to serving patients in his specialty of obstetrics and gynecology, Ingvoldstad became involved in broader work as well to assist the community of La Gonave, one of the neediest areas of Haiti.  Working with La Gonave Haiti Partners and others, he became part of a ministry to assist local villages in projects for clean water, education, agriculture, and animal husbandry, in addition to the medical clinics.
But the trips there also included already being in Haiti when the most devastating natural disaster in Haiti's history, a large-scale earthquake measuring 7.0 on the Richter scale, slammed the nation in January 2010 causing massive destruction and death in the capital of Port-au-Prince and surrounding areas. Ingvoldstad, one of the first physicians able to save lives in the aftermath, extended his stay by a number of days until emergency medical teams arrived. He assisted in the setup of a make-shift outdoor hospital setting where he treated the injured from dawn to dusk, even as aftershocks continued.
He not only tells the story of the work of the ministry, but he shares honestly about himself, who at one time had considered studying for the ministry. Opting instead for medical school, the invitation to serve in Haiti tapped a deep desire to help others. While as a successful physician in private practice he had been involved in many philanthropic activities in the USA, his experiences in Haiti were different.
"The difference that Haitian patients, friends and strangers made in my life started a ripple effect. First, I had to reevaluate my own priorities and sense of purpose. I had to trust strangers. I had to peel away layers of personal protection that I had constructed over the years. I had to look inward and be honest about what I might find. "
He shares his reflections to encourage others to step out and consider what they are being called to do.
"Do you want to change your life? Do you want to find out who you really are? You have to take a chance," he writes. "You may not be sure why or where you want to serve. But take that chance. It is a risk that allows you to make an impact and discover your purpose."
Ingvoldstad grew up in an Air Force family, living all over the United States as well as Japan. He holds a bachelor's degree from Iowa State University and completed his medical school and OB-GYN residency at the University of Iowa hospitals. He then served for two years in the Air Force as a physician at Malcolm Grow Hospital, Andrews Air Force Base in Washington, D.C. before going into private practice.
Recently retired, the Atlanta resident practiced medicine for 15 years in Sioux Falls, South Dakota, and 25 years in Atlanta. He currently supports the work in Haiti through fund raising while waiting for another chance to travel back and directly serve the people in La Gonave.
Road Trip: One Doctor's Call to Haiti [ISBN 978-1-949572-40-7] released from Carpenter's Son Publishing. It is available from selected book stores and online retailers. For more information, visit https://drjamesauthor.com
# # #