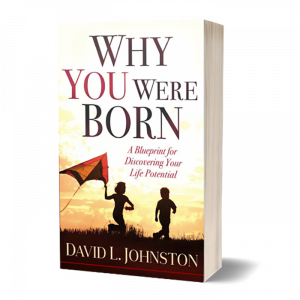 Why You Were Born: A Blueprint for Discovering Your Life Potential and the Why You Were Born Study Guide
by Dr. David Johnston
JACKSONVILLE, FLORIDA – October 2022 – JACKSONVILLE, FL — Nationally-renowned research company McKinsey and company reported earlier this year that Generation Z, the world's teens and young adults (ages 10-25), is the least confident of any generation living and has more mental health issues, believed to be exacerbated by the effects of the pandemic especially on social networks, as well as by pressures they feel from social media.
Author and pastor Dr. David Johnston has some suggestions for helping these young people. And he offers some practical tools for discovering the spiritual gift that God has given each of us.
In his recently published book, Why You Were Born: A Blueprint for Discovering Your Life Potential, Johnston challenges us to see what God sees.
A newly-released 12-lesson study guide for the book, the Why You Were Born Study Guide, provides insights into how to do this.
"I know very few people who don't need to upgrade how they think of themselves," Johnston says.
Addressing readers, he says, "I sincerely want you to know that nothing, absolutely nothing, can destroy your God-implanted purpose if you will only reach out and take hold of it. No tragedy, no setback, no circumstance, no bully, no demon, no nothing can prevent God's purpose.
"But it starts with liking you."
"If you will but respond to the simple truth that you plus God can triumph in life, then who knows you can accomplish?"
With the tender heart of a teacher, Johnston starts with outlining the awe-inspiring wonder that God is the Father of every single unique human, and he makes no mistakes despite what we might initially think of ourselves. In the Scripture-laden book he challenges us to gain a true understanding of our worth–and to like ourselves.
"Understanding why you were born gives us a new appreciation for our true selves, and know why we matter and have a known purpose. Then and only then can we be free to be our real selves as God intended," he writes.
Johnston's gift turns Scripture into easy-to-digest nuggets and steps to follow. He walks readers through scriptures such as Psalm 139 that praises and worships God while explaining how man is "fearfully and wonderfully made."
After outlining the value of each person, in the second half of the book, outlined for self-discovery, Johnston provides a simple to follow teaching on each Biblical gift, what he calls Embedded Natural Abilities, or ENA.
"Your gifting, your ENA, is your true vocation, your holy endeavor, your greatest fulfillment. It is intrinsically and indivisibly a part of you. As you'll see later, it's your THING in life. It's the light you shine in life," he explains.
An introduction to these nine gifts is available in a mini-book format at no charge through Johnston's YouTube channel as well as his teaching ministry website, called Nothing But the Truth. It is among the extensive free downloadable resources and videos on his ministry site, www.nothingbutthetruth.org, and on YouTube where he has achieved 1.7 million views.
The Why You Were Born Study Guide, along with Why You Were Born: A Blueprint for Discovering Your Life Potential, are recent releases from Canadian-born Johnston, now a pastor in Jacksonville, Florida.
His other books include The Virtuous Woman, High Value Target, How You See Yourself: The Source of Your Struggle and How to Conquer It; The Inaugural Address the Changed the World, and For Every Soldier, all published by Nothing But the Truth
His commitment to sharing God's wisdom also includes a free, twice-monthly e-newsletter, and a robust social media presence.
Why You Were Born: A Blueprint for Discovering Your Life Potential [ISBN: 9781-951492-21-2], $17.95, and Why You Were Born Study Guide [ISBN: 978-1954533196], $11.95 (or $27 together) , were released from HigherLife Publishing and Marketing, a Florida-based multi-service publishing, branding and digital marketing firm that serves ministries and organizations nationwide.
#
Excerpted portions of the book are also appropriate for use as magazine articles. For a review copy or to interview David Johnston, contact Joni Sullivan Baker, Buoyancy PR,
at 513/319-3231 or jbaker@buoyancypr.com.