"…This is God's company; this is Kingdom work"
GREENVILLE, South Carolina – November 11, 2020 — Here's some welcome good economic news: Genesis Marketing Group, a leading sales rep group to the Christian retail industry, is celebrating its fiftieth anniversary, both thriving and surviving.
Genesis M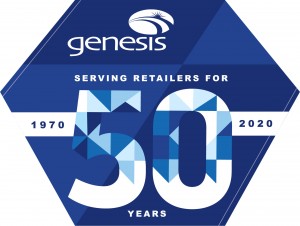 arketing Group serves a worldwide audience to help families and individuals find products that bless their lives. Representing more than 20 brands, much of their business has been in the inspirational retail market, servicing Christian bookstores across the country. They also serve in the gift market, helping retailers of all sizes and varied markets with their gift selections.
Of course, their fiftieth anniversary celebration doesn't look quite like they had envisioned it.
"A year ago when we began planning how to celebrate our fiftieth year in 2020, we wanted to give thanks to our customers and our team, and to give God the credit for bringing us through 50 years. This is God's company, and this is Kingdom work," said Genesis President David George.
"And that remains our focus, although we had no idea then we would not only push pause on celebrating but be turning our attention to surviving the year."
But survive they did, despite some layoffs and temporary furloughing of some employees earlier in the year. They demonstrated the agile navigating skills they honed to survive previous economic crises by adding new product lines. Responding to the needs of the nation, they added products all retailers suddenly had a need for – facemasks, shields and digital thermometers.
"And while our product assortment is large and varied, we could never have imagined that to serve the needs of our clients we would have to quickly obtain health and safety items so they could operate," he continued.
Genesis provides sales representation for Hallmark-owned DaySpring, Carson Home Accents and Creative Brands, as well as the Christian apparel brand, Kerusso. They also represent Christian book publishers such as Harvest House, Simon and Schuster's Howard Books, and Tyndale House Publishers,.
In addition, they provide general market gift products such as Thomas Kinkade calendars and other items from Andrews McMeel Publishing, Laurel Burch jewelry and many other jewelry brands from Howard's, as well as other notable gift brands.
While the company's own in-person celebrations for the fiftieth anniversary have been postponed, Genesis sponsored a dessert celebration for a dinner at the in-person Christian Retail Expo International gathering in Delaware at the end of August.
In his remarks at the dinner, Genesis Executive VP Les Jones reflected on the Christian retail market, saying, "The Christian consumer has a strong need to connect with books and Christian products, even though the marketplace has changed in the past five years."
He thanked the bookstores, saying "we cannot do it without you," and reminded everyone that God will still be God, both in the unexpected times like 2020 and in 50 years from now.
"As a company, we've weathered other economic downturns, but this year has presented new challenges," he continued. "Like many other companies, our team worked hard to serve both existing customers and find new ones and now as the year draws to a close, we are finishing the year ready to take on the challenges of the next 50 years."
Genesis Marketing Group was founded in 1970 in Greenville, S.C. by Dana Sullivan. He later turned the reins over to his son, Peter Sullivan. Current owner, Becky Spragins, serves as the company's Chairman of the Board of Directors.
Over the years, the company expanded to create GMG Holdings as the holding company for Genesis Marketing Group and Palmetto Fortis Marketing LLC which was founded in 2017. Palmetto Fortis provides educational resources to the Christian school market nationwide.
In addition to President David George and Executive VP – Sales Les Jones, the leadership team also includes GMG Holdings CEO Tim Morgan; CFO David Stockard, who also serves as COO for GMG Holdings; and Executive VP – Key Accounts Chuck Zimmerman.
The company looks forward to an in-person celebration in the future.
Genesis Marketing Group (https://genesislink.com)
# # #
FOR MORE INFORMATION OR TO INTERVIEW DAVID GEORGE, CONTACT JONI SULLIVAN BAKER, BUOYANCY PR, AT 513/319-3231 OR jbaker@buoyancypr.com.