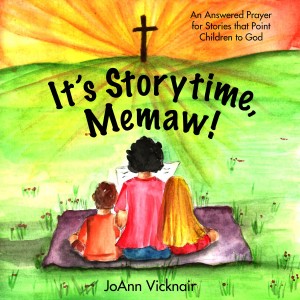 RESERVE, LOUISIANA – January 14, 2021  – One of the gifts of getting older is to know how good God is, having had experience of how we can rely on him to carry us through joys as well as dark days. As a grandparent, debut author JoAnn Vicknair so longed to give that gift to two of her young grandchildren that she began to tell them stories about what God has done.
Those stories became It's Storytime, Memaw!, a book of short stories just released for children ages 4-14 that compels them to draw closer to God.
Saying she's not a writer, Vicknair, a retired nurse, did have a passion to share with all her grandchildren the faith that sustains her. Intensely praying, she asked God to tell her His story she could share because the children "needed God in their lives."
She says she never expected the answer to that prayer would become a published book.
"I am not creative, and really never thought to write anything, but I did have family stories of faith and answered prayer," Vicknair explains. "My grandchildren loved hearing the stories, and continued to ask for more, saying, 'It's story time, Memaw!' How could I say no to that?"
Over the past few years as she was telling her grandchildren the family stories, she began handwriting them in a journal. Earlier this year, with the pandemic giving her more time at home, she created a digital document to preserve the stories and so the children could practice reading with the stories they knew and loved.
Then, she shares, during that process as she prayed earnestly for more to share with her grandchildren, she had the experience of God working with her directly giving her more stories and guiding the development of them with instructions to publish them.
That started her on her unexpected journey as an author – finding a publisher, an illustrator, a website designer, a videographer to do a book trailer, and other people to guide her on publicity and social media.
"I am an ordinary grandmother stepping out in faith to do that which God has led me to do," Vicknair explains.
"I would like to tell my story of how this was of God's doing. How He blesses and answers our prayers above and beyond all we could hope for or imagine! The stories compel a child, and the reader, to celebrate and brag of God Almighty," she said.
It's Storytime, Memaw!  features 44 stories written in a child's voice, simply told with details children love.
The book is now available at selected book stores, from Amazon and other online retailers, as well as through Vicknair's website, www.JoAnnVicknairAuthor.com. A book trailer that describes the book and her journey is on the website, as well on YouTube at https://www.youtube.com/watch?v=rxabWGvoBF8.
In 2021, as is allowed, Vicknair will be available for storytelling and speaking events. For more information or to contact JoAnn, visit www.JoAnnVicknairAuthor.com.
It's Storytime, Memaw! (ISBN-10 : 1952025192, $19.99) released in January from Carpenter's Son Publishing. It is available from selected bookstores and online retailers. For more information, visit www.JoAnnVicknairAuthor.com.
# # #
For a review copy or to interview JoAnn Vicknair, contact Joni Sullivan Baker, Buoyancy PR,
at 513/319-3231 or jbaker@buoyancypr.com.