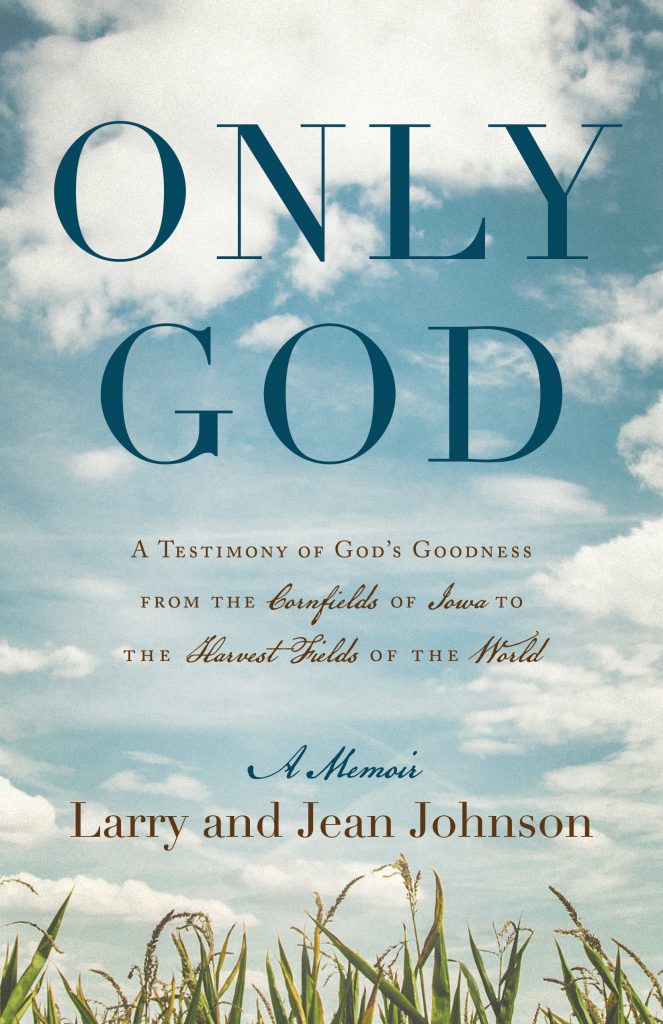 Only God:
A Testimony of God's Goodness
from the Cornfields of Iowa to the Harvest Fields of the World
By: Larry and Jean Johnson
WINDSOR, ONTARIO, CANADA – If you knew only one person where you were going, would you still trust God and go?
When Larry and Jean Johnson answered the call to serve God on the foreign mission field, they had no idea what God has in store. But they did know one thing: they would go.
This missionary couple, having lived in the heart of farming country for most of their lives, discovered they could trust God with whatever He said to do—even if it meant arriving in a foreign country where they knew only one person, even if it meant they would be separated across several thousand miles during family illness, and even if they would serve together through some of the wildest situations.*
"We believe in these unprecedented times of confusion and conflict that people need encouragement and the guidance of the Holy Spirit," the couple says. In their thirty years of ministry, the Johnsons have never lacked. Even though they have been "down to the wire" sometimes, only God helped them back up.
If you're feeling the pressures of financial lack, personal despair, or insurmountable fear, abundant hope remains because God is always faithful. You can trust Him for everything. Only God pours out the blessings of your listening and obeying that still, small voice. The authors believe your story is unique, and their prayer is that, through reading their stories of how God has provided for them, you will be encouraged, motivated, and even smile through the heartache. The Johnsons' number one goal is to "bring glory to God for His goodness!"
From the corn fields of Iowa to the harvest fields of the world, Only God is a collection of stories about God's intervention and divine work in the lives of Larry and Jean Johnson. More importantly, it's about learning how to hear God's voice and watching Him perform extraordinary miracles.
* https://missionsbox.org/press-releases/distributing-food-displaced-families-ukraine/
ABOUT THE AUTHOR
For twenty-five years Larry and Jean Johnson lived in the Midwest. Although Jean worked as a registered nurse and Larry enjoyed farming, they desired to minister to people's souls. In the early 1990s they answered the call to full-time missionary work founding Will Go Inc., a nonprofit missions organization impacting lives around the globe. They enjoy traveling, trying new cuisines, gardening, Scrabble, and Dr. Pol. The couple have three adult children and three beautiful grandchildren. Learn more at www.larryandjeanjohnson.xyz and at www.willgo.org.
Suggested Interview Questions:
You two weren't always missionaries. What were your young adult lives like—did either of you even have a notion that missionary work might be in your future? How did you eventually get to the mission field?
Only God is a powerful collection of mighty stories of what God has done in your lives as missionaries. What was the hardest call of God to accept, and what prompted you to move forward? What did you think was the most ridiculous thing you were asked to do?
What were a couple of the most extraordinary ways you saw God work in your early days as missionaries? What would you say is most important in serving God and ministering to others?
When thinking about the many experiences you've had, what are the top three "only God" moments? What did He do that differed from what you'd expected or hoped He'd do?
What is significant for you in hearing His voice? How did missionary work open you up even further to hearing, knowing, and understanding the direction God would take your life? What caught you by surprise the most?
Was there ever a time when you didn't hear His voice or wondered if something really was of God? What did you do, and how did God show up?
How would you encourage readers to better hear the voice of God in their lives?