Surviving the Holidays While Grieving:
Practical Tools for Experiencing Joy When Facing Grief and Loss
By Janet Johnson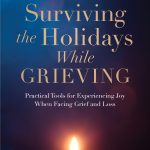 ASHEVILLE, NORTH CAROLINA — As a person with strong faith, Janet Johnson believed that when difficulties came, she could face them head on, deal with them, and move on with life. That was until she lost a brother to murder, a son to a car accident, and a brother-in-law to suicide. Other events triggered more grief, like moving away from friends and family, severe illnesses, a traumatic brain injury, family members with disabilities, and even the loss of hopes and dreams.
Janet was unprepared for the swell of emotions that surfaced at unexpected times—and often controlled her. She wondered, Will I ever find joy again?
Surviving the Holidays While Grieving offers a glimpse of Janet's journey with grief, pain, and loss. With compassion and tenderness, she shares how it is possible to find joy and make new memories, and how, even in the darkest days, hope and peace can emerge.
Refreshingly honest, authentic, and engaging, with practical activities to remember the lost loved one, Janet hopes Surviving the Holidays While Grieving will guide readers toward healing and greater peace. It's a must-have toolkit for anyone dealing with grief who wants to take steps forward with joy and recognize God's faithful presence in and through the journey.
ABOUT THE AUTHOR
Janet Johnson is a pastor, spiritual formation mentor, author, writer, and speaker whose passion is to draw others closer to God in life's situations. She holds a BA, MSW, and MDiv, is an associate member of the Order of St. Luke Healing Ministry, and has completed the Academy of Spiritual Formation and the Pastors of Excellence Program. She frequently teaches on grief and joy and also writes regularly for a Christian magazine. She and her husband, Richard, live in North Carolina and have four grown children and several grandchildren and great-grandchildren.
For review copies and media interviews, contact
Janet Johnson: joyfilledjan1@gmail.com
Facebook: JoyFilledJan.author
Website: joyfilledgirl.wixsite.com/joyonthejourney
Suggested Interview Questions:
How has your journey with grief paved the way for you to write a book where you help others manage emotions that accompany the pain that comes with loss?
You've experienced incredible loss in your life—your brother to murder, your son to a car accident, and a brother-in-law to suicide. Did writing the book offer continued personal therapy for you?
Your book is a tender mixture of supporting others who have lost loved ones and practical activities for processing grief in healthy ways—specifically during holiday seasons like Thanksgiving and Christmas. From your experience, how is grief different over the holidays from the rest of the year?
Many of your ideas and activities focus on keeping traditions special to the one who died or that helps the one grieving to create a new tradition in honor of their loved one. How does keeping traditions help with the healing process?
What makes your book unique among others on the market that cover the loss of a loved one?
You mention in the book that "when we share grief, our burden becomes lighter." Expand on that, and why grief in community brings healing faster than grieving along.
Several times in the book, you mention how emotions have unexpected triggers, especially during the holidays. Is there a way to minimize the triggers, or should a grieving person welcome them and deal with them?
The book offers targeted chapters for helping children process and express their emotions. Why is it so important to help children grieve? How did your journey with the loss of loved ones impact writing these chapters?
Explain how children grieve differently than adults, and why it's crucial, especially over the holidays, to involve them in activities to help them process their grief—and what some of those activities might look like.
You mentioned that when you were in your darkest places of grief, Scripture reminded you to stay focused on God. Can you share some passages that carried you during these dark seasons?