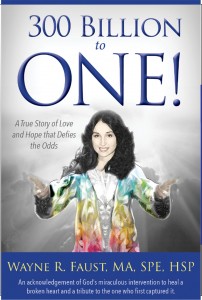 NASHVILLE, Tennessee – Feb.14, 2018 – While the public face is of romance and roses, for many Valentine's Day is something to survive as they face painful reminders of their lost loved one. Or perhaps they just feel unloved and single on a day seemingly designed for two-somes.
Author Wayne Faust has a unique take on this holiday, as he remembers not only the love he and his wife shared before her death from cancer, but also God's love shown to him in a miraculous way. He wants to remind us all that whatever we face, God is with us, and God loves us more than we can imagine.
A licensed therapist, Wayne knows what people need when facing grief. But in the devastating months that followed her death, Wayne nearly lost his will to live and cried out to God for answers to her death and pain.
In his overwhelming grief, Wayne cried out, "God, I need a miracle!"
And God responded with an undeniable intervention, transcending time and space to create a set of circumstances so personalized Wayne could not explain them away and would be overwhelmed with restored hope that He is a caring God.
Wayne says he wouldn't have expected God to communicate with him so directly in his former, pre-Wanda's cancer life. But after her death, he had experiences he felt compelled to share with believers and non-believers as God answered his prayers in miraculous ways.
First God sent back his wife to visit him two weeks after she passed to help him move forward again. Recognizing that the experience with simple odds could be explained away by non-believers, he thanked God, wrote the odds in his grief journal and asked God to not let him forget the experience in days and years ahead.
God answered with a series of undeniable interventions within minutes. A former neighbor came to his home while he was still praying and shared her exact same experience with Wanda the same night. Then a series of other interventions followed, and continued to keep his hope high and his faith strong.
Wayne tells this story in his new book, 300 Billion to ONE! A True Story of Love and Hope that Defies the Odds, now available.
"At this low ebb, God knew the best way to keep me afloat," Wayne said." After the miraculous experiences he added still additional layers of interventions with statistically near impossible odds – more than 300 billion to one odds — so that I was overwhelmed and could not forget, but rather would share with others so that all would know the Truth: there is a Heaven, our loved ones are waiting for our entry to celebrate our arrival and God is personally by our side until that day He calls us home."
Today, Wayne continues to serve his community and participate also in encouraging others who have experienced grief and loss.
A licensed therapist, Wayne is currently CEO of Counseling and Assessments Ministries (CAM), a nonprofit counseling ministry dedicated to serving Alzheimer's clients and providing indigent children opportunities to develop career skills. Prior to starting CAM in 2015, Wayne's career was centered in providing various licensed clinical, industrial-organizational and human resources-related services in diverse settings in the Nashville, Tennessee area where he lives. He is active in his church and serves on the board of several nonprofit organizations.
For more information about the book and Wayne, visit his websites, including:  www.300BilliontoOne.com and www.CandAMinistries.org.
300 Billion to ONE! A True Story of Love and Hope that Defies the Odds [ISBN 978-0-692-88047-0, Carpenter's Son Publishing] just released. It is available from selected book stores and online retailers.
# # #
EDITOR'S NOTES:
For a review copy or to interview Wayne Faust, contact Joni Sullivan Baker, Buoyancy PR, at 513/319-3231 or jbaker@buoyancypr.com.