KAILUA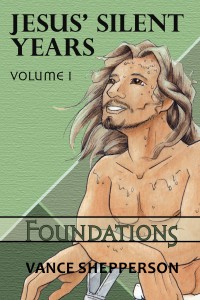 -KONA, HAWAII, January 19, 2021 – Not too long ago, music everywhere had lyrics about the sweet baby Jesus boy and mangers and angels. Did that really happen? Who was that baby and why is there a whole worldwide holiday celebrating his birth?
If you've ever wondered about that, you may have other questions about the baby who Christians claim grew to manhood and was sinless, and that's just the start of what they claim. Sinless? Really? By their definition of sin, that means he lived a celibate life but was fully man.
Psychologist Dr. Vance Shepperson thinks these questions are worth considering and hopes his fictional depiction of Jesus as a teenager and a young adult starts good discussions.
In his just-released historical fiction debut, Jesus' Silent Years, Volume I: Foundations, Shepperson starts a four-book series that imagines Jesus between the ages of 13-30. The series takes on the years the Biblical accounts of Jesus' life skip over – from about age 13 until he starts his public ministry when he's around age 30. What was Jesus doing those in-between years?
Shepperson approaches this respectfully, but fearlessly, drawing on his knowledge of teenagers as a professional psychologist, but also drawing on his knowledge of the Bible and with respect for the figure of Jesus.
The first book, Volume I: Foundations, introduces us to Jesus from ages 13 -17, at home with his mom and dad and younger siblings, as well as with friends like his cousin John, long before he became John the Baptist, and friends Lazarus and his sisters Mary and Martha. Shepperson is careful to respect the biblical accounts but he also introduces other characters, including a teenage girl who notices him.
The fourth volume in the series will conclude with his baptism, which is considered the start of his public ministry, at age 30.
In the preface to the series, Shepperson says, "All of us go through the same tasks: leaving home, managing puberty, hormones, shaping identity, forming friends, finding a vocation, and acquiring a life partner—or lack of one. Jesus was no exception.
"Each of the four volumes in Jesus' Silent Years tells stories of Jesus' life— how he grows up, shaped by family, friends, enemies—and those other Two, Father and Spirit," he continues.
"So, think two thousand years ago, Middle Eastern culture, an enemy-occupied country, and a growing Son of Man. Embedded in these stories is a training manual for how to live a wise life, regardless of your faith or lack of it. And what's a wise life? Knowing what to do when the rules don't apply."
Then he concludes with this: "Strap yourself in. Get ready for a wild ride."
Volume Two: Parables, which will release March 13, 2021, covers Jesus ages 18-22. Volume Three: Journey, and Volume Four: Homecoming, cover Jesus ages 23-26 and 28-30, respectively. Journey will release in the summer of 2021 and Homecoming in the fall of 2021.
A book series of this type isn't for everyone, as Shepperson is quick to point out.
"My goal is to make the reader curious enough to re-consider Jesus and his people.  Many millennials see Jesus as nice but irrelevant, and the church as a judgmental bunch of do-gooders, known for what it's against rejects, not what it affirms.   I'd like these folks to meet a compassionate and real young man who, at the same time, is credible in his claims to be God, and the only path to heaven," Shepperson says.
Shepperson grew up in a ministry family, with both father and grandfather in the pastorate. He has spent his life helping people through his profession as a psychotherapist.
Vance was educated in the United Kingdom and Switzerland in addition to the U.S. He holds a doctorate in clinical psychology, worked as a US Air Force psychologist, and served on faculty at an accredited doctoral program of clinical psychology in California. For the past decade or so, he has served with an international charity in southwest China, the United Kingdom, and New Zealand. Vance and his wife now live and practice as licensed psychologists in Hawaii.
Jesus' Silent Years, Volume I: Foundations  [ISBN 978-1-949572-81-0, $14.99] just released in January from Carpenter's Son Publishing. It is available from selected bookstores and online retailers. For more information about Vance Shepperson and the series, visit https://vanceshepperson.com.
# # #
For review copies of the book or to interview Vance Shepperson, contact Joni Sullivan Baker, Buoyancy PR,  at 513/319-3231 or jbaker@buoyancypr.com