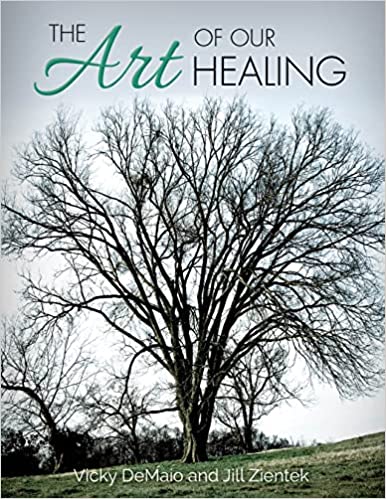 JUST RELEASED:
The Art of Our Healing: Faith-Based Journey of Loss, Hope and Healing
by
Vicky DeMaio and Jill Zientek
Nashville, November 30, 2022 – Healing hands and comfort are but "a breath away" according to two friends and co-authors who have survived loss and found healing.
For Vicky DeMaio and Jill Zientek, co-authors and illustrators of the new book just released, The Art of Our Healing, death and loss has come all too often to snatch loved ones and leave them reeling.
Yet both of these women learned to lean on the arms of the Savior and come through their grief with a stronger faith as they sought the new purpose God had next in mind for them in life. They now seek to share comfort and hope with others.
The women struck up a friendship after meeting in their Life Group at church and soon discovered not only had they both been widowed, but they are also both artists whose work has helped them heal. Some of that art, expressing both grief and beauty, graces the pages of their book.
However, they also have both experienced additional tragic losses.
Jill cared for and then lost her husband after a lengthy illness, and then as their book was being finished, faced the shock of losing her mother through a violent death.
Not only was Vicky widowed, she also experienced divorce and then endured the pain of losing an adult child to suicide.
Though their losses were devastating, they offer their book as a relatable, faith-based journey of loss, hope, and healing.
Through thoughtful writings about their own grief journeys, they point to the Healer who provides comfort and hope.
"This is an inspirational book that will bring you joy, comfort, encouragement, and lead you to Jesus, the only One who can help you on your journey of loss and pain and guide you to the ultimate healing of your broken heart," said Vicky.
"We want people to know that Jesus is the one who healed our broken hearts," Jill adds. "But it takes courage, and it doesn't happen overnight. It is a process that mixes pain with joy and knowing love lives on in our hearts."
As Jill and Vicky celebrate the book's release, their desire is and lead them to Jesus, the only one that can help them, as well as give friends and family of the grieving the "perfect gift" to give comfort and encouragement through their writing, poems, and original artwork, which includes paintings as well as photography.
The Art of Our Healing: A Faith-Based Journey of Loss, Hope and Healing (ISBN 978-1954437-52-4, $34.99), an 8.x by 11 inch hardbound coffee table book featuring original color artwork, just released from Carpenter's Son Publishing. It is available from selected bookstores and online retailers.
For a review copy or to interview Vicky DeMaio and Jill Zientek, contact Joni Sullivan Baker, Buoyancy PR, at 513/319-3231 or jbaker@buoyancypr.com.