Just-released best seller provides real life examples and encouragement
to hold on to God's grace for the nearly married, newly married,
and the already married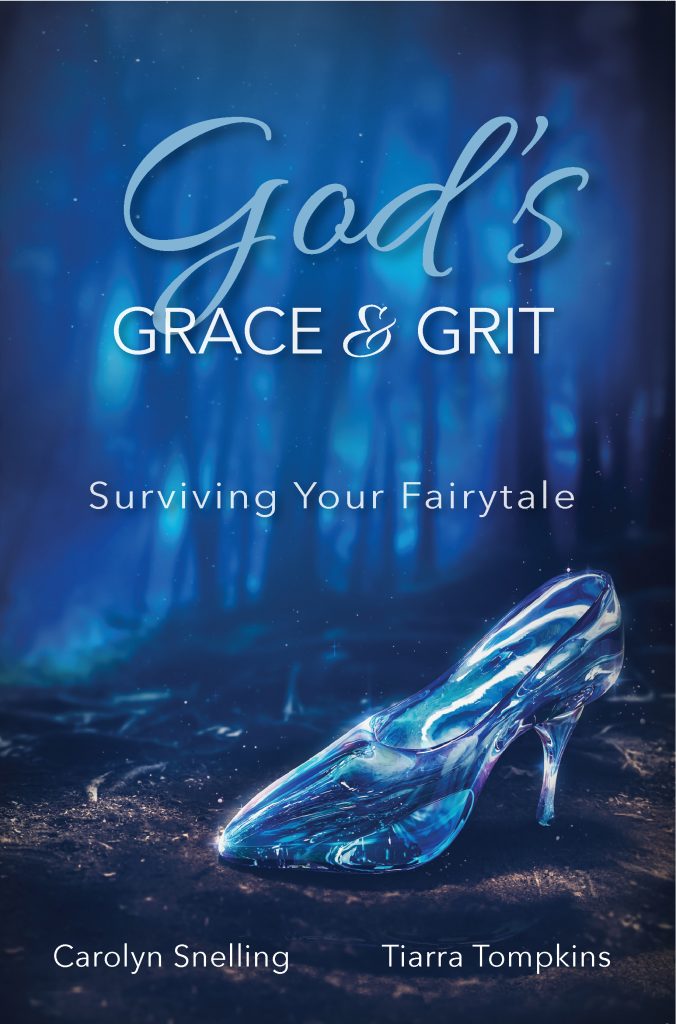 God's Grace and Grit: Surviving Your Fairytale
by
Carolyn Snelling and Tiarra Tompkins
Surprise, Arizona – July 12, 2023. It's wedding season. Warm spring and summer days are the favorites for couples deep into planning every detail of their fairytale wedding. But for many couples, the whirlwind of wedding planning all too often buries the reality of planning the life together forever part of the experience. Other people, already married, or previously married and unsure they would ever try again, see a darker side of romance and marriage.
After all, despite both marriage and divorce rates declining for years now in the USA, in 2021 there were still almost 2 million marriages, though statistics suggest almost half of those will likely end in divorce.
Not God's design, say Carolyn Snelling and Tiarra Tompkins, co-authors of God's Grace & Grit: Surviving Your Fairytale just released today and already on best seller lists. The authors brought their experience with marriage as well as their experience with God's grace to the project.
While believing in the happily ever after, they know from personal experience it's not a guarantee. Describing their book as a guide to seeing God's grace in action, they share their experiences as well as those of others and seek to offer a biblical perspective on both the grace and the grit it takes to succeed at marriage.
"After the honeymoon glow wanes," Carolyn states, "challenges of small and big proportions can arise. How do any of us survive these challenges? God—the maker of the glass slipper made uniquely for each of us — knew we would need His amazing grace and the strength He provides to face the things the enemy would use to attempt to keep us from our fairytales."
With plain-spoken wisdom and a girlfriend tone, they share the joys and challenges of their own marriage relationships, as well as share stories from others.
"Love is so much bigger and so much easier than we think it is," Tiarra says. "We overcomplicate it and add conditions and stipulations upon something that was intended to be fully and freely given, seeking nothing in return. See, love is just accepting someone exactly as they are, requiring nothing and YET gaining everything together. [LA1] Your success in any relationship is based on how well you love."
But they also tackle topics from selfishness to sex, and share honestly about their own failures and hurts.
"The enemy of our lives and hearts tries to tell us that things are broken, that they can't be fixed," writes Tiarra. "The truth is that God knows the answer to every path we might take, and He knows how to save us from ourselves. He uses every pain and every loss to create good in our lives and bring glory to His creation."
They bring differing life experiences, past and present, to their viewpoints. Tiarra is raising three daughters with her second husband. Carolyn married the love of her life the second time, a widower older than herself, but she now is caregiver as well as wife as her husband and she face the challenges of his life with a disabling illness. Carolyn also seeks to encourage other caregiving spouses.
"When we find ourselves in a position of caring for our spouses in one of the hardest times of their lives, compassion and patience are what will keep our eyes on Jesus," she writes. "It can be easy to get frustrated and angry because things haven't turned out the way you dreamed. Trust me, God knows how you feel!"
In concluding, Carolyn reflects.
"I want to encourage you in this phase of your life. Whether you are engaged, married, single, newly divorced, or re-entering the dating scene, God has a plan. You may have felt disappointment from past relationships. You may be thinking, 'I will never have a fairytale.' But you have a life to live. Your fairytale will come true by living the best life you can for Jesus.
"To Him, you are His most beautiful creation ever! [LA2] He has ground the sands of your life into a precious glass slipper that fits His purposes perfectly! We will survive our fairytales as long as we have Yahweh our ultimate Prince."
God's Grace & Grit: Surviving Your Fairytale (ISBN 978-1954437678, hardcover, $14.99), released July 11 from Carpenter's Son Publishing. It is available from selected bookstores and online retailers.
To connect with the authors visit their website (www.Godsgraceandgrit.com) or find them on social media, where they are providing updates and news about reader involvement opportunities and prizes. (Facebook: Gods Grace and Grit; Instagram: CarolynandTiarra.)

# # #

For a review copy or to interview Carolyn Snelling and Tiarra Tompkins,
contact Joni Sullivan Baker, Buoyancy PR,
at 513/319-3231.