You Don't Know Just How I Feel: Hope for the Grieving Heart
By Gwendolyn Odom Burton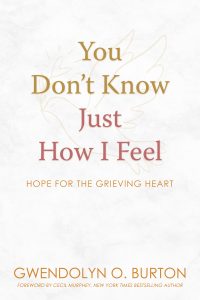 AURORA, COLORADO – September 21, 2022 – Author Gwendolyn Odom Burton asked herself this question nearly every day after her adult son, Miles, passed away from sudden unexpected death in epilepsy (SUDEP). And five years later, she's still asking that question.
The depth of loss and grief can be a complicated, tender matter, and truth is, grief pain never ends. After the funeral, most bereaved are left to navigate their grief alone because it's difficult for others to see tears and pain, or even to know what to do or say.*
Burton believes it's helpful to "normalize grief by discussing common challenges and misconceptions" that will offer the bereaved and their family and friends valuable insight for empathic conversations, boundaries, and support. Using her own experiences, Burton shares a relatable, honest, and compassionate approach to grief that unmasks some of life's most sensitive issues.
Readers will learn about the importance of self-care, how to handle conversations in person and on social media, and what to do around the holidays. Each topic provides grievers and supporters the wisdom and discernment to care for the losses, milestones, and unexpected emotions that often arise.
You Don't Know Just How I Feel seeks to connect with readers in a way that offers hope, inspiration, and courage after the loss of a loved one.
* https://whatsyourgrief.com/support-grieving-family-member-friend-6-principals/
ABOUT THE AUTHOR
After three miscarriages and an adult son who passed away from sudden unexpected death in epilepsy (SUDEP), Gwendolyn Burton is uniquely qualified to help others navigate their grief journey by discussing common challenges and misconceptions. She studied with grief expert David Kessler, founded Sisters in Solace (SiS), a support group for mothers of child loss, and is a Certified Grief Educator. Gwendolyn enjoys physical fitness and lives in Aurora, Colorado, with her husband, son, and three dogs.
For review copies and media interviews, contact
Gwendolyn Odom Burton: movingforwardwithgb@gmail.com
Website: www.gwendolynoburton.com
Instagram: @gwendolynoburton
Facebook: Moving forward with Gwendolyn Burton
Suggested Interview Questions:
Your book offers a unique perspective for people who are experiencing grief. What is the hardest piece about the grieving process?
Would you share your own grief experience with us?
How often or how long do the bereaved receive grief support from others?
It's understandable that some people have a hard time with tears and emotional pain. What are some ways to best support someone who has lost a loved one?
Sometimes conversation can be challenging, and even though you mention some examples in your book, what is a common misconception about conversations after loss?
What are some questions appropriate to ask the bereaved?
In your book you mention different methods of self-care. Why is this important?
If someone needed your grief support or needed to support someone grieving, what would you share with them?
# # #