Surviving Widowhood: 40 Devotions of Hope for Widows
By Sharon Engram and Lori Rohlinger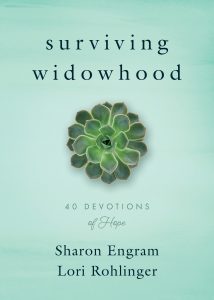 PHOENIX — September 20, 2022 – Perhaps you have asked yourself this heavy question every day since your spouse's passing. Perhaps you feel such intense grief and fear that you might not ever feel like yourself again. With 11.3 million widows and 3.7 million widowers in the United States in 2020, you are most certainly not alone in your grief and in your mountain of fears.*
Each of us are uniquely created by our Creator, and while we may experience the same grief and loss of a spouse, it doesn't mean we will process grief in the same way. 
You might be asking yourself how you can enjoy a holiday now that your spouse is gone, or how to help your young children grieve and understand the loss of Daddy or Grandpa. Perhaps you are grappling with how to handle the household responsibilities, chores, and finances that your spouse was responsible for. So many new and unexpected details to manage all alone. Life must feel daunting, scary, and unsure in this world of fresh grief or grief that resurfaces during special holidays and events.
Mother and daughter author team Sharon Engram and Lori Rohlinger, who have each lost a spouse, minister to widows and widowers, sharing how they each were able "to trust God with my grief and healing of my broken heart."
Lori and Sharon invite you to step away from the overwhelming demands and grief-wrenching spaces of life for a few moments each day and bask in the rich goodness of Jesus and precious love He showers upon you. In Surviving Widowhood: 40 Devotions of Hope for Widows, your grieving heart will be comforted, your tears will be seen, and your soul will be nourished.
* https://www.statista.com/statistics/242030/marital-status-of-the-us-population-by-sex/
ABOUT THE AUTHOR
Sharon Engram was active in the three churches her late husband, Don, pastored in Illinois, Ohio, and Arizona. As a speaker, women's ministry leader, and Bible study teacher, she also helped found Women Anew (Ohio), an annual conference for women which has reached thousands of ladies. Sharon's heart also expands into international missions. She helped develop the Women's Ministry division for International Needs, assisting national women leaders in ministering to their own people. As part of that ministry, Sharon organized several women's teams to teach at women's conferences in third-world countries. She also served on the board of directors for WorldVentures Missions. Mother of four, grandmother of fourteen, and great-grandmother of six, Sharon lives in Goodyear, Arizona.
Lori Rohlinger was active alongside her late husband, Greg, in founding Palm Valley Church in Arizona, seeing growth to over four thousand worshippers. The couple was an inspiring speaking team—he at the 2013 C3 conference for pastors in Dallas, and she at JustOne virtual conference in 2014 and 2016. Lori also spoke at the in-person Flourish Conference in 2017. She lives in Buckeye, Arizona, and is the mother of three young adult sons and one teenage daughter. Lori writes a blog and does a weekly podcast, Beautifully Broken, about widowed life. Learn more at https://lorirohlinger.blogspot.com./.
Podcast, Beautifully Broken: https://podcasts.apple.com/us/podcast/beautifully-broken/id1497602623
For review copies and media interviews, contact
Lori Rohlinger at lori.beautifullybroken@gmail.com
Sharon Engram at sharonengram60@gmail.com
Instagram: Sharon Wickham Engram
Facebook: Sharon Wickham Engram
Instagram: Lori Rohlinger
Facebook: Lori Rohlinger
Suggested Interview Questions:
The topic of widows grief is multifaceted. So many emotions and details to work through, and not just grieving. What is one piece of comfort you would share with a grieving widow?
Wow. And from your book, it's clear that you have personal experience. Would you briefly share your grief journey?
What was the hardest part for you?
How did you help your children understand the grief and loss of losing their dad?
What would you say to a widow who is facing a holiday or an event alone for the first time?
What did you find comforting in the first year of grief?
Looking back, what are some unexpected gifts God gave you during your grieving journey?
You've got a beautiful podcast for widowed life. What prompted you to launch this? How does it personally enrich you? Where can people find you?
# # #