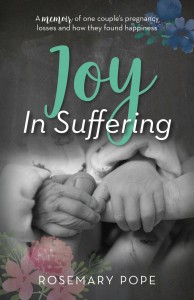 October 9, 2020 – Tiny fingers, tiny feet. Tons of potential and dreams wrapped in maybe eight pounds on arrival. Months before then, the developing, growing and waiting.
But one in four times: the heartbreak.
One in four pregnancies are lost to miscarriage, including an estimated 24,000 babies delivered stillborn annually in the United States.
Celebrity parents are not immune, as Chrissy Tiegen shared last week, opening up on Instagram and sharing the raw emotion and intimate photos in losing a child.
Another grieving mother, first-time author Rosemary Pope, shares her journey of multiple pregnancy losses, including a stillborn and an infant death, in her memoir of loss and hope called Joy in Suffering.
Married at 18 to her high school sweetheart, Rosemary's dreams were to be a mother to their children. Her first pregnancy brought excitement, decisions about birthing, and contemplation of becoming a family of three. Although it was trouble free into her third trimester, when she went in for a routine check up, she learned their son had died in the womb. She was still pregnant, but there would be no baby to bring home. Rosemary still endured labor, and she and her husband Bobby chose to meet and hold the stillborn son they named Enoch.
A year or so later, she was expecting a baby girl, but joy turned to sorrow when they learned the baby had developmental problems so severe the medical community describes them as "incompatible for life outside the womb." They named her Mary Alice, prayed for a miracle, and determined to carry this baby to delivery, meet her and love her for as long as she could live – which turned out to be just five hours.
Just barely into her 20s, Rosemary had faced two heartbreaking pregnancies and deliveries. She is brutally honest in her memoir, sharing her pain and anger at God at what they had endured and the ache of empty arms longing for a baby. But she also turned to God for comfort.
"Unfortunately, there are things in life that are going to happen that we, mere humans, cannot handle alone. God loves us and He wants us to seek Him. He wants us to lean on him, letting Him carry us through the hard times. He is the creator of the universe; I believe He can handle someone asking Him, 'Why?' He can! He feels our pain. He knows it well. He gave His only son and knows the pain of a griever," she writes.
"There will be a better day. It may not look the way we think it should, but if we continue to put our faith, hope and trust in Him – doing so over and over – He will deliver us. It is because of Him that we become strong."
This story of loss and love includes the story of her relationship with the husband she calls her "rugged man," from their teenage years to them sharing milestones of early married life, in the midst of these nearly unbearable experiences. As she relates how they grieved together and he supported her, it is a reminder that fathers grieve too.
"The loss of our children was and is the hardest thing I've gone through," Bobby Pope writes in an afterword. "The pain of our losses was so deep it physically hurt to cry. The only way I knew to hang in there was to do what I had been taught: to keep my feet firmly planted in my belief in Jesus.
"If you are walking through something similar, or going through a different kind of turbulent season in your life, this may be the last thing you want to hear or read. But I sincerely want to say, 'Keep going, you've got this.' The outcome may or may not look as you had hoped in the beginning, but if you allow yourself to trust the Lord, He will take care of you."
Today, Rosemary and Bobby Pope have four living children. After their third pregnancy brought them their first healthy son, she went on to have two early miscarriages. Her next two pregnancies after that brought them a daughter and a second son.
Following writing the book, Rosemary had another baby girl.  She describes herself today as a mother of eight – four on earth, and four in heaven. The four on earth are now aged 8, not quite 6, 3, and five months.
The family lives in East Texas where they home school and count their blessings.
In her growing ministry to other women who have suffered child and pregnancy loss, Rosemary blogs and is also a speaker. For more information, visit www.rosemarypope.com.
With hard-earned wisdom beyond her years, Rosemary ends her book with this thought.
"We learned how precious life was, including our own, and have not wanted our moments to pass us by…even when life seemed grim," she writes. "We are never promised tomorrow, so we've found ourselves wanting to make each day count. It isn't easy, and we still struggle, but we have found that the joy of the Lord is our strength. We have learned that no matter the circumstances, we can always hold to His promises….and choose joy."
Joy in Suffering [ISBN 978-1-946889-84-3] is available from Carpenter's Son Publishing. The book is available from selected bookstores and online retailers.
# # #
For a review copy or to interview Rosemary Pope, contact Joni Sullivan Baker, Buoyancy PR, at 513/319-3231 or jbaker@buoyancypr.com.