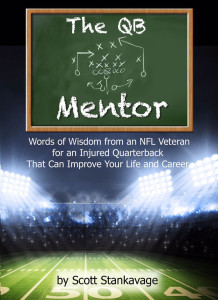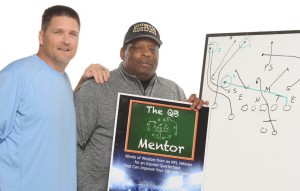 DURHAM, N. C. —  August 18, 2016 —The QB Mentor: Words of Wisdom from an NFL Veteran for an Injured Quarterback That Can Improve Your Life and Career,  written by Scott Stankavage, has been awarded a gold seal by the Mom's Choice Awards(MCA), distinguishing the book as among the nation's best in family-friendly media.
The MCA evaluates media, products, and services for the family based on a number of elements including production quality, design, educational value, entertainment value, originality, appeal, and cost.
"I'm thrilled to have the Mom's Choice seal on my book," said Stankavage, former quarterback for the Denver Broncos and the University of North Carolina. "The powerful mentoring lessons in this book are a great tool for parents and young players, as well as coaches, and I'm thankful for this recognition."
Described as "Madden meets Tuesdays with Morrie" by Anthony Dilweg, a former quarterback for the Green Bay Packers and Duke University, The QB Mentor tells Stankavage's story of helping his son, a quarterback at Vanderbilt University, overcome great heartbreak and fear when he tore his ACL in his junior year of high school, potentially ending his college playing options.
As a dad, Stankavage knew he needed to view this crushing setback in the light of God's plan for his son's life – and his own. And he knew God led him to reconnect with a former Broncos teammate and two-time national college coach of the year, Steve Wilson, to mentor his son.
But it was while the three men were meeting regularly to help rehabilitate Scott's son – body, mind and spirit – that Scott received the diagnosis of an aggressive and incurable form of leukemia, a disease he still battles. And then he discovered the mentoring had an even greater purpose as he faced a bigger battle off the field than he had ever faced on it.
With stories of legends Bill Walsh, Roger Staubach, and John Elway woven into the narrative as Shawn's journey unfolds, The QB Mentor also features an intro section from former NFL coach Dan Reeves (Denver Broncos, New York Giants, Atlanta Falcons), and a foreword from Pep Hamilton, recently-named assistant head coach/offense and quarterback coach for the Cleveland Browns, former quarterback coach for Stanford University and the Indianapolis Colts.
Scott Stankavage retired from the NFL after three seasons with the Denver Broncos that followed his notable career as a record-setting quarterback for the University of North Carolina and, prior to that, as an All-American high school player in Pennsylvania. Post-football, he enjoyed a 30-year career in commercial real estate in the Raleigh-Durham, N.C. area where he resides. He remains active in the community, where he founded the Turning Point Adolescent Center, serves on the board of the local Pop Warner youth football organization, and is engaged in several men's ministries.
The QB Mentor: Words of Wisdom from an NFL Veteran for an Injured Quarterback that Can Improve Your Life and Career [ISBN: 978-1-942557-10-4] released in 2016 from Clovercroft Publishing and is available in select book stores as well as online sites including Amazon, and on the website, www.qbmentorbook.com
The book website also includes an author interview featuring both Scott Stankavage and Coach Wilson. For more about the book, check out the trailer here: https://www.youtube.com/watch?v=Mc_d9Uhi0LY.
About the Mom's Choice Awards®
The MCA evaluates products and services created for children, families and educators. The program is globally recognized for establishing the benchmark of excellence in family-friendly media, products and services. The organization is based in the United States and has reviewed thousands of entries from more than 55 countries.
Learn more about the MCA by visiting their website: www.MomsChoiceAwards.com.
For more information,  contact Joni Sullivan Baker, Buoyancy PR, 513/319-3231 or jbaker@buoyancypr.com