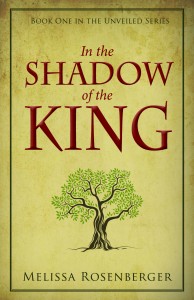 PHILADELPHIA – June 5, 2019 – Wait – Jesus had sisters? Although a surprise to many, Jesus did have at least two unnamed sisters, according to the Gospels of Mark and Matthew. In her just-released debut novel, author Melissa Rosenberger starts with that fact and imagines what it might have been like to grow up with Jesus as an older brother.
Released this month, Rosenberger's novel, In the Shadow of the King: Book One in the Unveiled Series, seeks to draw readers to Jesus by bringing them into his family household.
The series looks at the lives of Christ and his early followers, telling their story through the eyes of Jesus's sister. With careful attention to scripture and historic detail of first-century Israel, Rosenberger envisions what Jesus might have seemed like to his Jewish contemporaries, including his own kin.
Rosenberger depicts his family as including six children, as the Bible refers to at least six siblings—naming four of Jesus's brothers and referring to "his sisters," though neither the number of sisters nor their names have been recorded.
Creating a sister named Hannah as the next born child after Jesus, Rosenberger examines messianic prophecy from Hannah's point of view, beginning when she is 8 years of age reacting to her 12-year-old brother Yeshua.
"I hope the book sparks curiosity about how scripture describes Yeshua's interactions with His family," Rosenberger said. "His own brothers who didn't believe in Him in the Gospel of John are later mentioned as being present among the believers in Jerusalem at the opening of Acts. So even within the microcosm of Yeshua's family, we see God's story of redemption being played out."
As Hannah grows into a young woman and makes impetuous decisions, she pushes her family away, unable to accept the claims of Yeshua's divine parentage. Against the backdrop of political oppression and religious tension at the time, Rosenberger's research offers new insights and nuances to the years of Jesus's ministry as the book continues into Hannah's adulthood through the Resurrection.
"Hannah's story invites us to trust that God is who He says He is even when our past experiences, present circumstances, or feelings say otherwise," Rosenberger said. "He may lead us in unexpected ways, but His intentions toward us are always good. And if we'll trust Him, the King of the universe will be faithful to deliver exceedingly above all we can ask or imagine."
Rosenberger's path to writing was unusual, involving a dramatic career change.
Her first career was as a physician, a professional qualification that took 13 years of academic study and significant financial investment to attain. Yet a decade later, she walked away from being an anesthesiologist without knowing where she was going. She prayerfully responded to a call on her life to follow God wherever He would lead her.
He led her to serve using her creative talents as a writer.
"I took a long-planned trip to Israel shortly after resigning from my anesthesiologist position. On that trip, the Lord gave me a heart for the Jewish people like I'd never had before and opened my eyes to the Jewish roots of my faith," Rosenberger explains. "While in Israel, the idea came up in my spirit to write about Yeshua's sister."
In the Shadow of the King: Book One in the Unveiled Series [ISBN: 978-1-949572-15-5] released in June from Carpenter's Son Publishing. It will be available at selected book stores and online retailers.
The second book in the series, Weaving Flame into Fire: Book Two in the Unveiled Series is planned for release in 2020.
Rosenberger lives in the Philadelphia suburbs where she grew up. She holds degrees from James Madison University and Tufts University School of Medicine. She completed her anesthesia residency program at Northwestern Memorial Hospital in Chicago.
For more information about Rosenberger and her writing, visit https://melissarosenbergerbooks.com/
# # #
EDITOR'S NOTES:
For a review copy or to interview Rosenberger, contact Joni Sullivan Baker, Buoyancy PR, at 513/319-3231 or jbaker@buoyancypr.com.